Discover more from The Trend Report™
A weekly look at news and trends you may have missed, with plenty of commentary.
Over 4,000 subscribers
The Trend Report™: The Big Skeleton
What the viral yard skeleton has to do with our collective consciousness.
Hi!
Welcome to The Trend Report™ where you get a capturing of what happened this week.
This week we're talking the big skeleton, K-Pop versus QAnon, why Twitch is going to change politics, monstrous trucks, a few cool obituaries, and a student who revealed a teacher's fraudulent engagement ring.
x/x
krf
PS. Forward to your friends and subscribe here.
---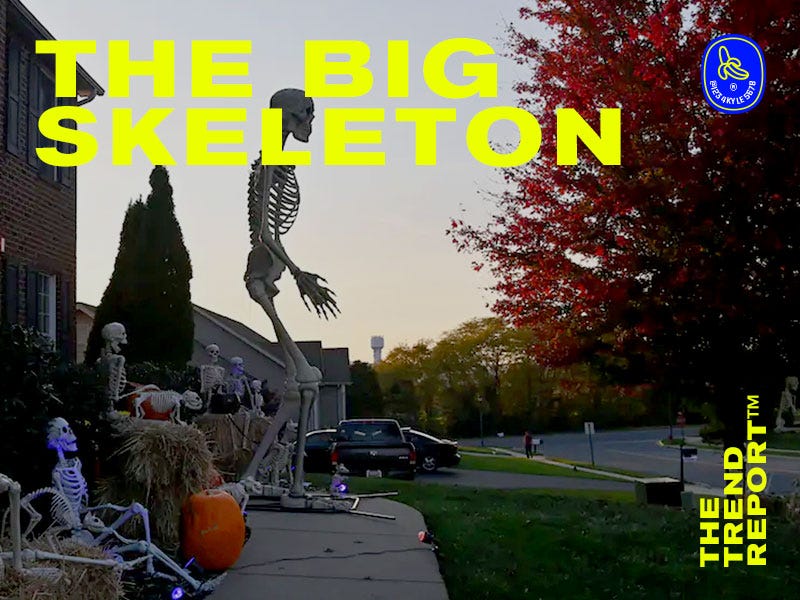 2020 may be the year without Halloween but it is definitely not the year without a seasonal mascot: The Big Skeleton.
The twelve foot tall, $300 Home Depot icon has been Halloween-at-home's biggest hit. It all seemed to start with New York Times reporter Taylor Lorenz's ongoing adoration of this tall fellow, which stole the thunder from the aesthetic-but-racist sheet ghost trend.
The Big Skele is the most coveted lawn ornament of the year, sparking limited supply to shortage to complete sellout of the item. This coveting evolved online in myriad ways, turning the skeleton as a figure from literal item to metaphysical bestie: there's the viral child skeleton lover, who feels slightly staged; the Zoom and home school skeleton lawn displays; the fake Spirit Halloween skeleton song that turned into a literal commercial jingle; and all sorts of delightful internet oddity dedicated to the Big Skele's kin.
The Washington Post posits the appeal of the Big Skele has to do with joy, holiday cheer before the other happiest time of year. This is a sort of happiness only money can buy too.
Melissa Svenby, 49, of Colorado Springs, spent more than $1,000 on three bone boys for her yard attraction, called 2609 Dead Man's Curve.

"I didn't really think about a price, honestly," she says. "It's about investing in something that brings us a lot of happiness."

Donna Kerr, 54, bought 10. You can do the economic math.

"It was completely impulsive to buy 10 of them, because they're not cheap," says Kerr, correctly. When they were delivered, the boxes "took up half of a tractor trailer . . . I was like, 'Oh my god, what did I just do?' "
The obvious thing here is, in a year at home, sharing something on your yard is the closest thing that we have to connection. In that way, of course the stage that is our lawn is where we play out our feelings. But is that really why the skeleton is so popular? This shared sense of skeletal awe?
I think the appeal is much deeper and more complicated than that. The theory I subscribe to relates to how the year is underlined by waxing and waning mental health: my friend Lindsay and I chatted over Twitter that the Big Skele's appeal likely comes from the skeleton capturing and reframing a prevailing sense of death in 2020. The fact that a large skeleton has become trend seems to be a fitting-and-unfitting specter of the million people who died from Covid. The Big Skele seems to laugh at us, to bring us a smile while also smirking, knowing that all this didn't have to happen. The society that made him appealing also made this situation what it is.
This trend is silly and seasonal, yes, but is yet another obvious metaphor in a year of obvious metaphors: death is in the air and it's getting larger and larger.
---

Politics in the face of a historic election.
How Could Your Ballot Be Rejected? Let Us Count The Ways
A great exploration of why your ballot could be rejected. Read closely – and get ready to fight for the legitimacy of your vote!
Seeking power in Jesus' name: Trump sparks a rise of Patriot Churches
This is truly creepy and definitely relates to...
Amy Coney Barrett took her bows and promised to be independent.
...the rise in right and righteous religious right figures, which dovetails into...
The White Extremist Group Patriot Front Is Preparing For A World After Donald Trump
...gender roles and masculinity, specifically as it relates to white supremacy. Brace yourselves for the ongoing theocratic nightmare.
No One Fights QAnon Like the Global Army of K-Pop Superfans
I want to believe this is true and, yes, it partly is, but I think we're beyond the point of no return with QAnon. Sorry, K-Pop stans. Keep trying though! I want to believe!
Nickelodeon's 'Kids Pick the President' target of bot-driven interference
I can't quite pinpoint what's the craziest part of the story but I think it has something to do with "nearly 90,000 kids" casting virtual ballots, which either says a lot about our democracy or that kids and parents ain't watching Nickelodeon. (For reference, 90,000 is nearly 500,000 less people than Wyoming's population, the state with the fewest residents.)
AOC's Next Four Years
I admit: I didn't read this but it's undoubtedly informative, if you need an AOC primer. I did watch this video of what her day is like. She's so delightful!
AOC's Attractiveness Drives Us All Mad
To that, a take on AOC from the always brilliant Tressie McMillan Cottom on lookism as it relates to race, sex, and intelligence on the left and right. (Access the story via her Twitter, in case you don't have a Medium account.)
Inside The Refugee Camp on America's Doorstep
Heartbreaking.
People Have Nothing Left – Literally $0 – Because Of The Pandemic
Also heartbreaking.
Quiz: Can You Tell a 'Trump' Fridge From a 'Biden' Fridge?
This story trended like crazy this week and it's…kinda bullshit? But fun or something. The key might be mayonnaise.
Ready To Start a New Life Outside the US?
Hate literally all of this? Get out of the country! I wrote a story for Rewire about what it's like to leave the country, in the words of expats.
Text-Only NPR
A great "alternative" version of the beloved news site that strips it down to just the facts. If you're looking for a place to keep informed with a filter, this is what you need.
---

Ups and downs in technology.
"When toxic web communities get banned, they don't disappear"
An interesting read about what happens when hate groups get deplatformed: they don't disappear, instead dispersing into more angry, more toxic groups.
"this is. a real good thread"
Turns out, video games are quite woke.
"One year, one incredible team! Take a look back at year 1 of #TeamTrees"
This is a very inside YouTube thing but it's kinda cool: a little effort by some creators to plant more trees saw 7.1 million trees planted worldwide one year later. Amazing!
Twitch May Disrupt Politics In The 2020s Like Twitter Did In The 2010s
Twitch emerges as rising platform for beauty brands
I think Twitch is the secret weapon of the internet. We're gonna hear a lot more about for years and years to come, especially in quarantine.
How much does a hotel's ventilation system matter right now?
For anyone looking to stay in hotels, this is informative. The short is there's some risk. Not the riskiest situation, but not without risk.
Wall Street Journal Is Struggling With Aging Readers
No shit, you conservative paywall nightmare.
Gas Stoves Are the Scariest Thing in the Kitchen
As someone with an indoor air quality monitor and a gas range, I can assure you: this story is very true.
Soylent Founder's Unhinged Politics Rant
We all know this but: eat the rich. Or sip them? However you ingest food, do that for the rich.
Jack Dorsey's wild beard at the Senate hearing
TAKE A BATH
---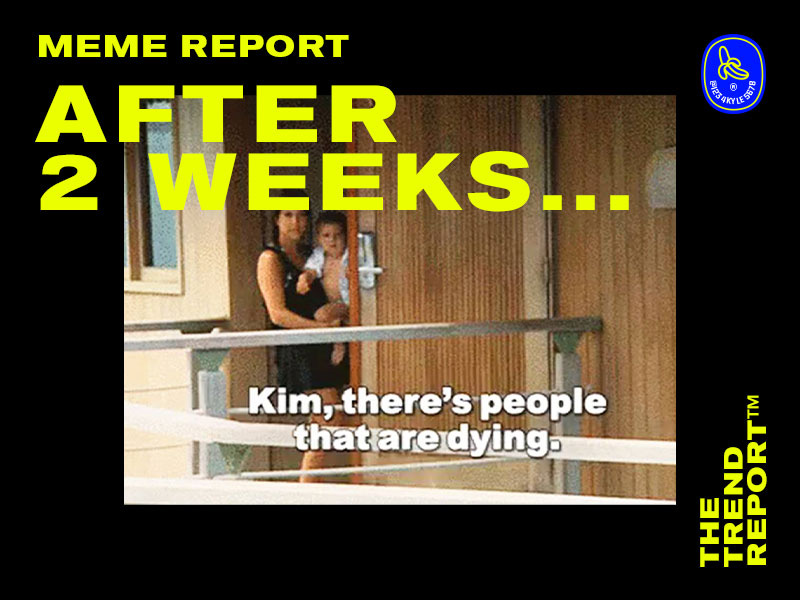 Kim Kardashian unwittingly started a meme this week that I wasn't going to write about but I am writing about because the saga just won't end.
On Tuesday, Kim Tweeted a thread about her fortieth birthday which seemed strangely normal for not-normal times. What was particularly triggering to people was a Tweet featuring photos of people embracing and her mother walking on the beach. "After 2 weeks of multiple health screens and asking everyone to quarantine," the Tweet reads. "I surprised my closest inner circle with a trip to a private island where we could pretend things were normal just for a brief moment in time."
This was dunked on by everyone. It turned into a copy-and-paste text meme that was accompanied by antithetical images to replace her happy island times with even more ridiculous situations. There were the Lost jokes.There were the Myst jokes.There were the Beanie Baby jokes. There were the Parasite, the Fyre Fest, the Matisse, the Battle Royale, and so many other jokes.
Then there were the takes. Generally, no one was happy about such privilege being flaunted. Some pointed out how this was peak performative quarantine. Some interrogate her definition of normal. Some urged her and the like to read the room. Some conceded that she, like so many rich, should enjoy their bubbles.
But the best, most accurate reaction? The repeated serving back of one sage Keeping Up With The Kardashians quote from Kourtney, who shuts down her sister at a tropical location because her sister is having a tantrum over a misplaced piece of jewelry. "Kim," Kourtney says. "There's people that are dying."
This would have been the end of this exhausting cycle – but it seems to be the beginning of something. Khloe Kardashian joined the conversation on Thursday, doing the ultimate out-of-touch billionaire move by griping about Kims big birthday with bad billionaire Ellen Degeneres. To make matters stupider, late Thursday saw the party continue with Kanye getting ("getting") Kim a hologram of her dead father. Kim also used the attention to remind people to vote, which is rich coming from someone married to an aspiring political candidate who is beefing with another celebrity.
Sigh. The celebrities are at it again.
---

News about moneyed things.
Why the Enigmatic Axe Company Was Sold for Parts
This is definitely one of 2020's most emblematic stories. It's the end of an era for part of the 2010s aesthetic.
Has Anna Wintour's Diversity Push Come Too Late?
This story was huge this past weekend and week, which asks a question we all know the answer to: Anna Wintour has got to go.
Hi.
The Chrissy Teigen essay on her stillbirth is heartbreaking and a put words to an experience rarely covered. One of the week's must-reads.
Bill Gross accused of blaring 'Gilligan's Island' song on loop to torment neighbor
This is one of the wildest, silliest stories of the week: a rich neighborhood drama, played out as if they were children.
Sports Came Back in 2020. Now Comes the Hard Part.
A sequel to last week's death of sports story, people are wondering what the future of sports looks like beyond this moment. I'm gonna guess not-great.
Once Meccas of Retail Therapy, Now Homes to Elder Americans
This is interesting! And a great way to refashion retail and elderly care.
The Beauty-Supply Store Run by a 16-Year-Old
A nice look at a young entrepreneur at work.
---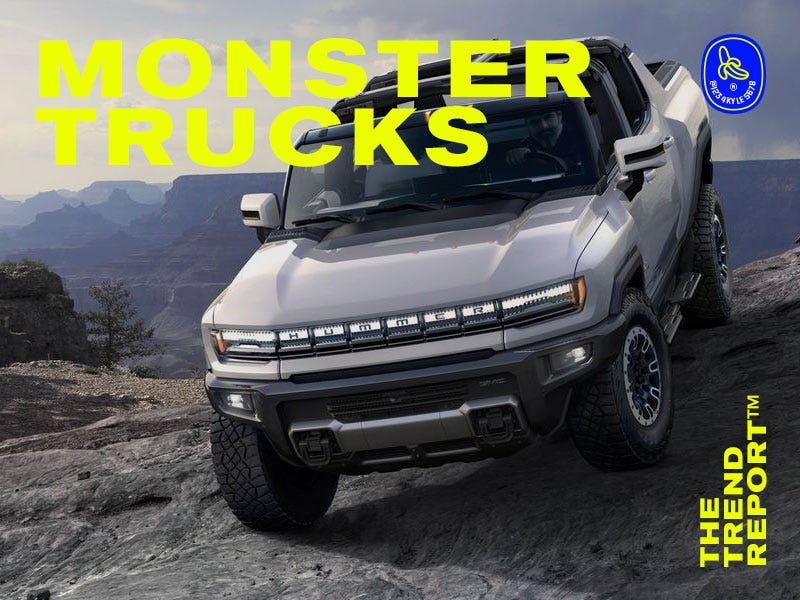 When the Cybertruck was introduced in 2019, little did we know that this monstrosity would alter the fabric of the car universe.
Nearly a year after its introduction, big trucks with "no impact" are a trend: Hummer has a new truck that won't use gasoline; the new Ford F-150 is a hybrid; and Ram is attempting to be all electric. The problem, as Wired points out, is no one knows if the electric truck market is a real market. Who cares about electric pickups? Are truck buyers the type who actually care about the environment? Is this going to appeal to coal rollers? Time will tell.
While the electric implications are to be determined, what can be gathered are that these vehicles are large. These are monster trucks, "North American ass-kickers" that are going to takeover the roads and dominate the streets. Like the electric nature of these new vehicles, will anyone care about the supersized nature of these vehicles?
Yes. Yes, they will. The best example of this was caught in a review of the truly gargantuan 2021 Cadillac Escalade by a reviewer who otherwise loves cars. The size, the sheer amount of car that the new Escalade presents, pushed him over the edge.
This trend in colossal vehicle sizes — particularly the very tall, square front end found on most large SUVs and trucks — is testing the limitations of our infrastructure. While driving the Escalade, I felt as if I could barely stay in my own lane. The massive width (6.75 feet, not including the mirrors) had me in a cold sweat while driving on narrow, two-lane suburban roads. The Escalade also could barely fit in my driveway, which wasn't a total shock. As USA Today recently reported, SUVs and pickups are getting so large that they're struggling to fit into some home and parking garages and public parking spaces.
What comes with this are blindspots and pedestrian dangers, a hazard to human life just because big boy want big car.
Electric or not, these cars aren't great. They reinforce American maximalism and likely won't help the environment that they claim to be considering. These cars aren't for anyone but the thoughtless, the beefy meatheads who want to one-up someone else, in an attempt to one-up the meatiest of the meaty: Elon Musk, lead colonizer and noted dickhead. It's all bad news, all unnecessary, all a monstrosity.
---

Silly, but make it fancy.
Everyone Is Gay on TikTok
"Homiesexual" is the "metrosexual" of the "homosexual" era.
We Need Blobs Now More Than Ever
Trend alert! Grab them blobs and get them on your walls!
Why Do We See Dead People?
I have yet to read all of this but it is interesting.
Play-Doh Announces Play-Doh For Grown-Ups
No.
The making of Avatar 2 looks like absolute hell
All this time, all this effort, all this money for………...some underwater business that's ten years old? Who cares?
It's a New Day for New Age Music
Extremely my jam. Nailah Hunter is great, too.
Drag Me To Hell Is Maybe The Most Millennial Horror Movie
Went on a little ~*~RaNt~*~ this week.
Chicago students help Jenny Holzer get out the vote
Cool! Vote!
The Most Office
Just some drag queens singing about voting. Vote!
Scientific study claims 85% of gay people are possessed by ghosts
I, for one, am completely haunted.
Robert DeMora Dies at 85; Helped Make Bette Midler Look Divine
Viola Smith, swing era's 'fastest girl drummer in the world,' dies at 107
This is not "silly" nor an upper but two obituaries that were very interesting, of two lives very well lived.
---

Silly, but make it common.
This 3D home tour is the best accidental video game of 2020
The best thing I "played" all week which, sadly, was pulled. You can still watch a video walkthrough!
"My dad installed a hot tub for his birds"
This is delightful. What a hero for the aviary community!
I used to wash my face with dish soap. Here's my attempt at a skincare routine.
Men are dumb!!!!!!!!!!!!!!!!!!!!!!!!!!!!!!!!!!!!!!!!!!!
"his whole vibe really just came from imprinting on this random guy"
Oh wow. This is very true.
"Thinking about the guy that put cheese in a chocolate fountain"
He goes on quite the face journey.
"I know you thought about it"
I will not lie: I tried to track down the man in the first part of the video so I could observe him fully, without his shirt on.
"put in the"
Your wish is my command, Liam.
"Accidentally typed 'lmao' in my family group chat"
What a mother. What a mother.
"Hi"
Thanks, 2020!
"Garfield comic"
Trigger warning: dog, uhhhh, "stuff."
"this kid goes around testing his teacher's wedding rings"
Of everything, this made me laugh the hardest this week.
And, finally, what I'm looking forward to.
---
Next week, we're talking political realities and at-home escape exhaustion.