Discover more from The Trend Report™
A weekly look at news and trends you may have missed, with plenty of commentary.
Over 4,000 subscribers
The Trend Report™: Disco 2020
How dance music made a comeback in a year without clubs.
Hi! And welcome to the first iteration of The Trend Report™.
We've got a lot going on this week so get them eyes ready for a deep dive on the disco resurgence, how you can own a theater for a few hours, why it's well past time to quit Facebook, and a very special surrealist Gumby Twitter.
Thanks and I love you!
krf
PS. Forward to your friends, etc. and subscribe here.
---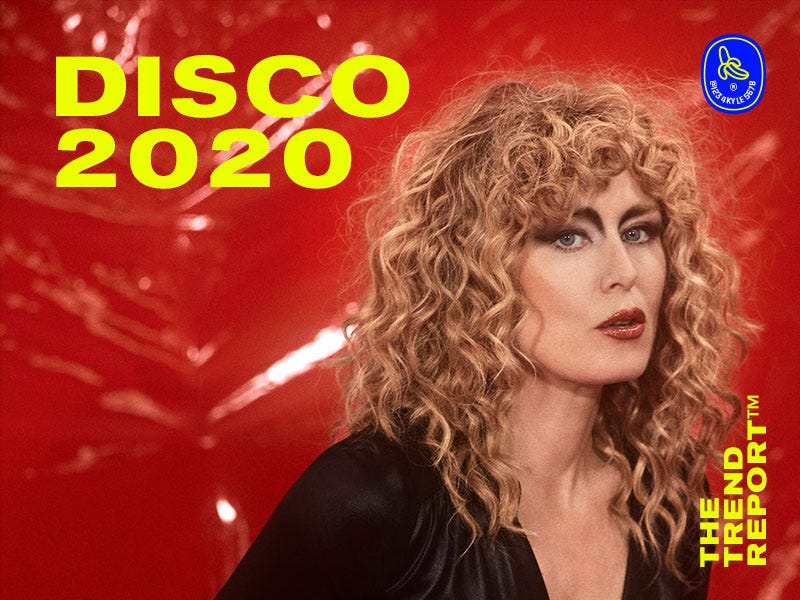 We're All In Studio 54
"I feel my story's still untold," the Irish singer Róisín Murphy's says on the first few seconds of her new album, Róisín Machine. "But I make my own happy ending."
For the unfamiliar, Murphy is a long standing dance icon, her roots based in late nineties trip-hop working with the band Moloko before going solo and creating a pop music pursuit that married fashion with performance in the aughts. In many ways, she created the template for many musicians working today.
Her new album is that it's a return to her roots paired with a major coming out, the long-awaited non-stop disco record that is twelve years in the making (as the album's opener, "Simulation," came out in 2012 – and sets the tone for the record). With her 2007 album Overpowered, she was able to craft a record that was about loving and being loved when you are the loveless. This clearly spoke to queers and, with a song about climate change on the album, she was ahead of her time. And, in 2020, she's both forward and backward and right on time.
Why? Disco is everywhere right now. Disco is not only a style of music but also a fashion and a lifestyle choice, a way of putting an inclusive party in your life in all ways. Murphy created this contemporary disco playbook over a decade ago by making what you wear as important as what you sing and do and, in 2020, people have finally caught up.
First, the obvious ripper offers: Dua Lipa has spent much of the year day-glo vamping, creating what she calls a "future nostalgia" that sees her hustling for the TikTok set; Doja Cat, a fellow TikTok ready star, has milked a similar vibe from February through August, serving this style for an audience whose parents were born during disco; Lady Gaga, who has repeatedly ripped off Murphy, has used the year to create a dance planet that rewards her gays; Miley Cyrus – and her incredible hair – is going the most literal, landing somewhere between Debbie Harry and Joan Jett; BTS are single handedly bringing bell bottoms back (and making pop all the better as a result); and even "Weird Al" has his disco take.
Next, the more nuanced iterations of disco. Mid-summer saw the release of Jessie Ware's What's Your Pleasure? which acknowledged all the hard work Dua Lipa had been doing but centered disco on adulthood. What her album did in late June was bring dance music home, reimagining your space as a Studio 54, a la a joyous space whilst quarantined instead of dreadful. Paired with all the disco-inspired TikTok dances, records like this helped to show that the nightclub isn't obsolete: your home is the club because it has to be. If Ware's brand of disco isn't enough, the princess of all princesses of pop music is returning in November, putting a button on the year of home dancing: Kylie Minogue's new album is a disco-inspired effort called, well, Disco. What she and Ware are aware of is that we need dance music now because dance and dance music are an instant recipe for happiness. Disco is magic. And don't we need a little magic right now?
Then there is the lifestyle of disco, to help keep your home glow bright: in fashion and beauty, we're being served dystopian disco and a (longstanding) silk shirt revival and glittery glam beauty; roller skating is seeing a very strong comeback online and off; the yearly Earth, Wind, & Fire celebration reached new heights in 2020; an exhibit currently up at the Brooklyn Museum reflects on this bygone club moment; and a new podcast posits the rap originated with disco. Disco is here, baby. Welcome to 19702020.
It all makes sense though, as the 2010s era of over-the-top pop star has died, making space for authentic persons like Murphy to finally get the press they're overdue. And what of the ripper offers? And what of the disco temperature being high? "I'm back to snatch Dua Lipa and Jessie Ware's wigs!" Murphy says. She would know.
---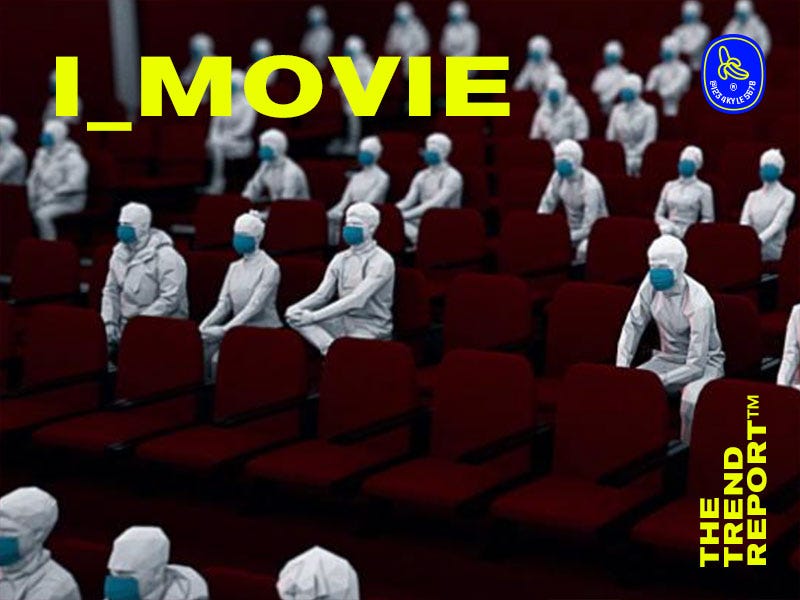 Yeah, You Can Rent An Entire Theater Now
Here's another big-little trend I wanted to call attention to, which comes all the way from my mother in Texas.
"We went to the movies," she told me over the phone. "We saw How To Train Your Dragon."
"Uhhhh." I laughed. "That's, uh, not safe."
"No, we were by ourselves," she says. She took my niece and nephew, her grandkids, to a theater that that had rented for herself, for a private screening of a movie that they didn't even finish because they didn't have to finish the movie. They were movie theatre royalty for a few hours and, when you're royalty, the movie doesn't really matter.
While I believed my mother, the story seemed...wild. Unreal! Dumb, even. But it makes sense: because movie theaters ain't doing great right now, facing their own mortality, an ingenious solution has come by way of turning these giant empty rooms into private screening rooms for families.
Instead of these becoming giant real estate bricks, they're lightening up by offering deals as such: buzzy Millennial theater Alamo Drafthouse is privately opening up their doors for $300 plus ticket prices; in Miami, it only costs $99 to call a theater your own; an Ohio theater is letting bidders vie for a 1929 vintage venue where up to 50 people can hang; and, as CNN claims, it's now "cheaper than ever to rent an entire movie theater." This last bit is true because, in my mother's case, it only cost her around $50 for this movie moment.
This is a fragile time for many but, for these movie houses, desperate times call for desperate measures. 
Now, enjoy the rest of the trend show with a curation of the week's links.
---

Stories tracking the new normal.
Face masks could be giving people Covid-19 immunity
The End of the Booming Mask Economy Is Near
The Mask Barons of Etsy
Masks and the market were huge this week, from a look at how they can prevent Covid-19 while minimizing symptoms to how masks won't save big businesses to how masks can booster little businesses. All this to say: wear a mask, dingus!
"Upon arrival in Iceland, you take a COVID test"
Roxane Gay recently travelled to Iceland (!!!) and her experience was quite interesting, particularly how they, uh, handle the virus. If only we could all be there but alas.
This Is the Newest Way to Show Full Stadiums During the Covid-19 Apocalypse
Stadiums full of sponsored content, characters from shows that need promoting? Do not tell me you are surprised by this capitalist twist.
Moschino sends puppets down the runway for Milan Fashion Week
Yes, Covid times are bad. But Covid creative solutions? Fantastic. Jeremy Scott's pivot-to-marionettes is fantastic.
'I Feel Sorry for Americans': A Baffled World Watches the U.S.
This was a huge story this week as it puts American life in stark contrast to much of the world. Read this and, ya know, weep.
How to Make the Most of Covid Winter
As our lives shift toward an inward and inside vibe, here are some ways to get excited and make the most of non-summer Covid times.
---

Get ready for stories to make you throw your phone away.
Mark In The Middle
Why the right wing has a massive advantage on Facebook
"We went to a Trump rally to ask people what they see in their Facebook feeds."
"A  @Facebook  employee has stolen my  @instagram  account. Thread!"
Democratic Party leaders are "banging their head against the wall"
Facebook takes a big step in linking Instagram, Messenger and WhatsApp
There were many stories about the somehow "surprising" discovery that Facebook is a largely conservative zone, that they are owning their right-leaning and older demographic. Who is surprised by this? The real question – and mostly unsaid subtext here, which makes shit like Kim Kardashian's "break" from Facebook all the more infuriating – is what people are doing to stand up to the platform? Why aren't people – Celebrities, friends, family, you. – deleting your accounts? What the fuck do you have to lose? A friend from high school? Why support Zuckerberg at this point? The same could be said for Amazon but let it be known: quitting a social media website or other digital service is the easiest political statement or activity one can make. (Also: ironic that this week was the tenth anniversary of The Social Network's release.)
Amazon's New Echo Show 10 Moves To Look At You
Amazon's new security drone pushes the boundaries of surveillance, again
See above: why are people – Celebrities, friends, family, you. – supporting this dystopian anti-privacy Bad Place?? We all know Amazon is very bad and moves like this continue their concerning trends.
How It Feels When Software Watches You Take Tests
There was a big conversation this week about software that monitors the eye movements of kids as they take tests online. This is such a privacy violation and, truly, is some ugly future shit.
Audrey Tang on her "conservative-anarchist" vision for Taiwan's future
Speaking of politics and tech, America absolutely needs a digital minister. Are you available, Chelsea Manning?
Twitter's voice tweets are rolling out to more iOS users
Be prepared for how creative people will get with this but know that no one will do it better than Lil Nas X.
Skip the app: $600 Bird e-scooters are now available at Target
I, for one, welcome more micro-mobility options.
US Navy doing recruiting in Mr Beasts' comments
Paging AOC, in case she wants to take this on as she remounts her case against other questionable recruitment strategies.
Jordan Toovi From The "Floating Boy Chasing Running Boy" Meme Shares Story
I had no idea Know Your Meme did such editorial and am thankful for it because stories like this offer depth, context, and a human face to a meme.
"We're proud to announce the launch of the Gravel Institute"
The launch of Gravel Institute, a liberal salve for the conservative digital behemoth PragerU, is way overdue. People buzzed about this this week – but I think it's too little, too late. The damage is done. Throw your cup of water on the fire and see how it helps now, H. Jon Benjamin.
People are editing photos of celebrities to give them Instagram-inspired faces.
Ew!! No!
A TikTok house divided
Because TikTok house are reality show, sink your teeth into some TikTok drama.
---

A crash course in creativity running wild, for better or worse.
7-Course Convenience Store Tasting Menu 
Sohla El-Waylly's new gig at Binging With Babish seems to be going so well that...she's taking a stab at former co-worker Claire Saffitz's gig. RIP, BA!!!
What It's Like to Be Black in Indie Music
A look at how the indie music world, across various different genres and scenes, treat Black creatives. It's an interesting read for any music or arts fan.
Centre Pompidou could close for three years for 'essential' renovations
Not that you could go to the Pompidou right now but, in three years, on your future, non-Covid vacation, you may not be able to go either.
Billie Eilish: The World's A Little Blurry – A Documentary Film
A documentary on the world's coolest teen is coming soon. Get ready!
Bad Bunny Teams up With Crocs for Glow-in-the-Dark Clogs
The Crocs domination continues with a collaboration that seems a bit less cringey than the cancerous "Cactus Jack."
---

A grab bag of thoughts and thinkings.
I'm Leaving the West Coast
This is a depressing read that all says: America, you in danger girl.
Chris Wallace Calls Debate 'a Terrible Missed Opportunity'
"statement from the Commission on Presidential" 
It was hard to not share any debate related items but this one, this look at the debate as a form itself, is interesting.
In 2020, Not Even Your Seltzer Is Safe
Yes, cans are cancerous. Drink that moist regular, y'all!
My Journey Into the Secret Subculture of Gays With Guns
A look at why queer persons are turning to guns to keep themselves safe. It sounds weird but, well, it makes sense.
"a common trope of #LGBTQ Republicans since the 1970s."
The story itself is fairly trash but I do want to highlight this sort of self-victimization of queer Republican. Don't align against your interests, dumb dumbs!
"Glow-Down Challenge"
A refreshing beauty movement.
Which Famous People Are Relevant?
A fascinating question with fascinating answers which, yes, are coming from within the bubble.
"Tana Mongeau may have committed electoral crime"
This is not funny but it is very funny.
---

lols from the end of the world.
"These boots were made for voting"
It's important to speak truth to power.
Donnie Darko Memes Are Getting Us Through This Lonely Hell
Mentally healthy? Talk about mentally sexy.
Looking for a way to limit screen time?
Just vomit on yourself while you're at it, too.
"MY NEW DOG GOT INTO MY OIL PAINT????"
You need to look at the first reply.
"the drew barrymore show is post-realism"
...and that makes it great.
"SO CORNY!!!"
Is Diet Prada over yet?? Where is the Diet Prada for Diet Prada?
"RBG the Vote"
A great visual for a bad time.
"I don't know who needs to hear this, but"
ME I NEEDED TO HEAR THIS ME OKAY ME
"I love her song "Nobody!""
Be the cowboy, y'all.
@GumbyScreens
Anytime I see anything Gumby related, I have to stop and remember that Gumby wasn't something that I made up as a child, that Gumby was indeed real.
""Have kids" they said"
Obsessed with these kids and how this makes me not want to have any.
And, finally, me trying to enjoy the ride to November 4.
---
Next week, we'll examine the shift away from "latinx" and artistic racial fantasies.